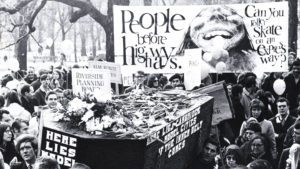 Neighborhood Matters' Spring 2018 will focus on transportation in Boston. We will discuss how transportation has changed the fabric of the city by focusing on several key flashpoints: "I-695," a highway rejected by community activists in the 1970s; the "Big Dig", one of the nation's largest infrastructure projects ever completed (1980s-1990s); and the "Silver Line," (Phase 1 2000s) including current plans for expansion and improvement.
All events are free and open to the public, lunch will be served.
12 PM, Snell Library, Room 90 (Film runtime 53 minutes) Featuring Special Guests Kris Carter and Scott Hamwey In 1987 the Washington Street Elevated train was torn down and the Washington Street corridor to Dudley Square was left without rapid transit for the first time since 1901. Equal or Better follows the story of a misstated promise to three Boston communities and the issues of equality still present in our country's transportation priorities. Scott Hamwey leads the Massachusetts Department of Transportation's Transit Planning team and oversaw the planning phase of the Silver Line Gateway Project. The Silver Line Gateway Project encompasses four new bus stations and connects Chelsea and East Boston (via the Blue Line's Airport Station) with the Red Line's South Station and the Seaport District. Kris Carter is the Co-Chair of the Mayor's Office of New Urban Mechanics. He is a non-practicing engineer, an optimistic urban planner, and a self-taught filmmaker. He has a not so secret love for Boston (his adopted home) and working through challenging human-centered urban problems. Kris has been nationally recognized by the APA for his blending of storytelling and urban planning and the Federal Labs Consortium for his innovation in transportation work.
12PM Snell Library, Room 422 (Book talk) A book talk featuring special guest Karilyn Crockett, who is the author of People Before Highways: Boston Activists, Urban Planners, and a New Movement for City Making. Dr. Crockett is director of Economic Policy & Research for the City of Boston. She holds a Ph.D. in American studies from Yale University. Linking archival research, (including in Northeastern University Archives and Special Collections), ethnographic fieldwork, and oral history, Karilyn Crockett in People before Highways offers ground-level analysis of the social, political, and environmental significance of a local anti-highway protest and its lasting national implications. The story of how an unlikely multiracial coalition of urban and suburban residents, planners, and activists emerged to stop an interstate highway is one full of suspenseful twists and surprises, including for the actors themselves.
12PM Snell Library, Room 90 (Film runtime 56 minutes) Featuring Special Guest Fred Salvucci, Senior Lecturer in the Department of Civil and Environmental Engineering at the
Massachusetts Institute of Technology
and former Massachusetts Secretary of Transportation. In the post World War II years, urban highways divided neighborhoods; nothing stood in the way of their construction. In Boston, the Central Artery cut through downtown Boston and the city was left with an ugly green monster, an elevated highway in the heart of its historic and business districts. By the 1970s, city planners wanted to tear it down but the existing highway was so vital to the city's transportation that closing it down for any length of time was unfeasible. The solution to this dilemma became known as the Big Dig. A local engineer named Fred Salvucci, (whose own grandmother had been displaced by the Mass Pike years earlier), championed a complex plan that resulted in a transportation renaissance in Boston and a renewal of much of the city's infrastructure.
About Neighborhood Matters
Neighborhood Matters
is a lunchtime series that celebrates the ways in which community groups have shaped the neighborhoods surrounding the Northeastern campus. This series is curated by Northeastern University Library
Archives and Special Collections
with the assistance of Library Communications and Events. Neighborhood Matters is co-sponsored by Northeastern University
City and Community Affairs
and Northeastern University
Office of Institutional Diversity and Inclusion
.
Archives and Special Collections at Northeastern University Libraries
The Archives and Special Collections at Northeastern University Libraries houses and carefully curates a diverse collection of historical records relating to Boston's fight for social justice; preserving the history of Boston's social movements, including civil & political rights, immigrants rights, homelessness and urban and environmental justice. They focus on the history of Boston's African American, Asian American, LGBTQ, Latino and other communities, as well as Boston's public infrastructure, neighborhoods, and natural environments. The primary source materials they collect and make available are used by the community members, students, faculty, scholars, journalists, and others from across the world as evidence on which histories are built. An understanding of the past can help inspire the next generation of leaders to fight for economic, political, and social rights.