Would you like to learn how to create a bibliography or "works cited" page in a matter of seconds? Are you wondering how best to keep track of all the citations you copy and paste for all the articles and books you use? Do you wish you could just plug in a footnote while you're writing in Word or Google Docs, and have it automatically format correctly? Are you interested in finding ways to store (and maybe even share) the citations and documents you're accumulating in your research?
Citation management software allows you accomplish all these things!
download citations (and attach PDFs) from various websites and databases,
store the citations in folders, and optionally share them,
create properly formatted footnotes, endnotes, and bibliographies using APA, ASCE, Chicago, MLA, and dozens of other styles painlessly in your word processor.
There are many commercial products out there for you to choose from, but at Northeastern we support
Endnote
,
Refworks
, and
Zotero
.
Next week, the library offers several workshops and a drop in session
to help you get started and answer questions. Choose the right software for your needs, install or register your account, learn how to upload citations, and "cite while you write" in Word and Google Docs.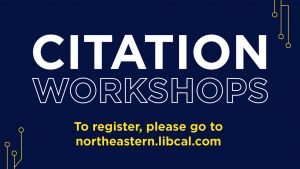 Workshop dates and times
Getting Started with Endnote
Monday, October 30 10:30-11:15 422 Snell Library
Register
Getting Started with Zotero
Tuesday, October 31 9:15-10:00 422 Snell Library
Register
Getting Started with Refworks
Wednesday, November 1 9:15-10:00 422 Snell Library
Register
Getting Started with Refworks (ONLINE)
Thursday, November 2 noon-12:45
Register
DROP IN Citation Help
Friday, November 3 9:30-11:30 CoLab D, Level 1 Snell Library (near Argo Tea)
(no registration necessary)
Please join us!