Posted by: Kaley Bachelder
Snell Library is happy to welcome three new co-ops this semester:
Aidan Breen: Digital Media Commons Studios Co-op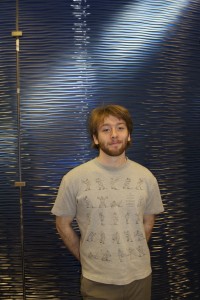 Aidan Breen is the DMC Studios recording engineer and video co-op. He is almost done earning a degree in Music Industry. He enjoys making noise and songs with his friends and making short films, as well as writing short stories and screenplays. He looks forward to learning as much as possible about the recording process and techniques, in addition to getting more experience with video production. His favorite films are "Night of the Hunter," followed in close second by "The Proposition." His favorite band right now is either Ava Luna or Show Me The Body, though he has been listening to the soundtrack of the Broadway production of Sweeney Todd quite a bit. Come visit him in the DMC studio on the second floor in Snell.
Madison Maduri: 3D Printing Studio Co-op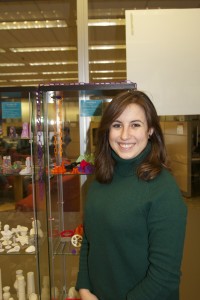 Madison Maduri is the new 3D Printing Studio Manager Co-op in Snell Library. Madison got her start at Northeastern with NUin. England, and is now a third year Art+Design student, majoring in Media Arts with a concentration in Animation. Madison looks forward to learning the 3D printing technologies, which are increasingly being used in the development stages at animation studios. She also hopes to create a friendly and inviting environment in the studio to share the technology with the Northeastern community. Madison grew up close by on the South Shore of Massachusetts and enjoys her summers visiting the beautiful beaches on the Cape and Islands. She also looks forward to another season on the slopes snowboarding.
Kaley Bachelder: Marketing and Events Co-op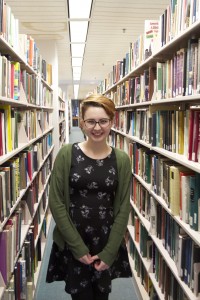 Kaley Bachelder is the new Marketing and Events Co-op here at Snell. She's earning a degree in English and Theatre, a major that doesn't yet exist (but she's working on that). Kaley looks forward to planning events this semester, particularly the Neighborhood Matters series, where her passion for social activism can find an outlet. When not in the office, you can find her attending club meetings, watching television, or rummaging through someone's fridge. Her favorite authors include Terry Pratchett and Jennifer Egan, and her new favorite past time is tearing each page off her page-a-day calendar. Kaley is excited to become a member of the library community!
Write / view comments

Posted in: Jobs