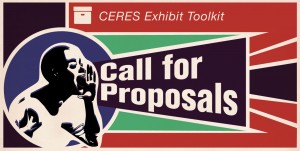 The Digital Scholarship Group is now accepting proposals for the next round of
CERES Exhibit Toolkit
development (formerly known as The DRS Project Toolkit). The CERES Exhibit Toolkit is a user-friendly set of tools for building digital projects and publications using digital materials from the
Digital Repository Service (DRS)
or the
Digital Public Library of America
. With CERES users can create exhibits, galleries, maps, timelines, and playlists that draw digital materials dynamically from the DRS or the DPLA. We are also excited to announce a new program of support for classroom use of the CERES Exhibit Toolkit. We invite proposals from faculty for courses to be held in Fall 2017 and Spring 2018. Feature development CERES will be a collaborative endeavor and a great opportunity to experiment with publishing your project's materials. If you have a project idea, we'd love to hear from you! Just answer a few questions about your project to
apply
. Examples of successful projects from the first two years of the CERES project include:
Accepted projects will partner with the DSG and DRS teams to use CERES to securely store their project materials in the DRS and create a customized WordPress site to publish those materials on the web. If you have questions, the DSG staff are glad to meet and discuss project proposals before the deadline; please contact us at
DSG@northeastern.edu
to set up a meeting. Please visit the
DRS Resources page
for more information about the DRS. If you don't think CERES is right for your project, but you are still interested in securely storing project files in the DRS, contact
Sarah Sweeney
.