Ramadan Mubarak, and happy Arab American Heritage Month! This month, stop by the Hub on the first floor of Snell Library to explore a curated collection of books focused on Arab and Arab American history, culture, food, and stories. From classical works of poetry and literature to rich fantasy worlds to cookbooks full of mouth-watering recipes, there are plenty of incredible books waiting to be checked out. Here are a few recommendations: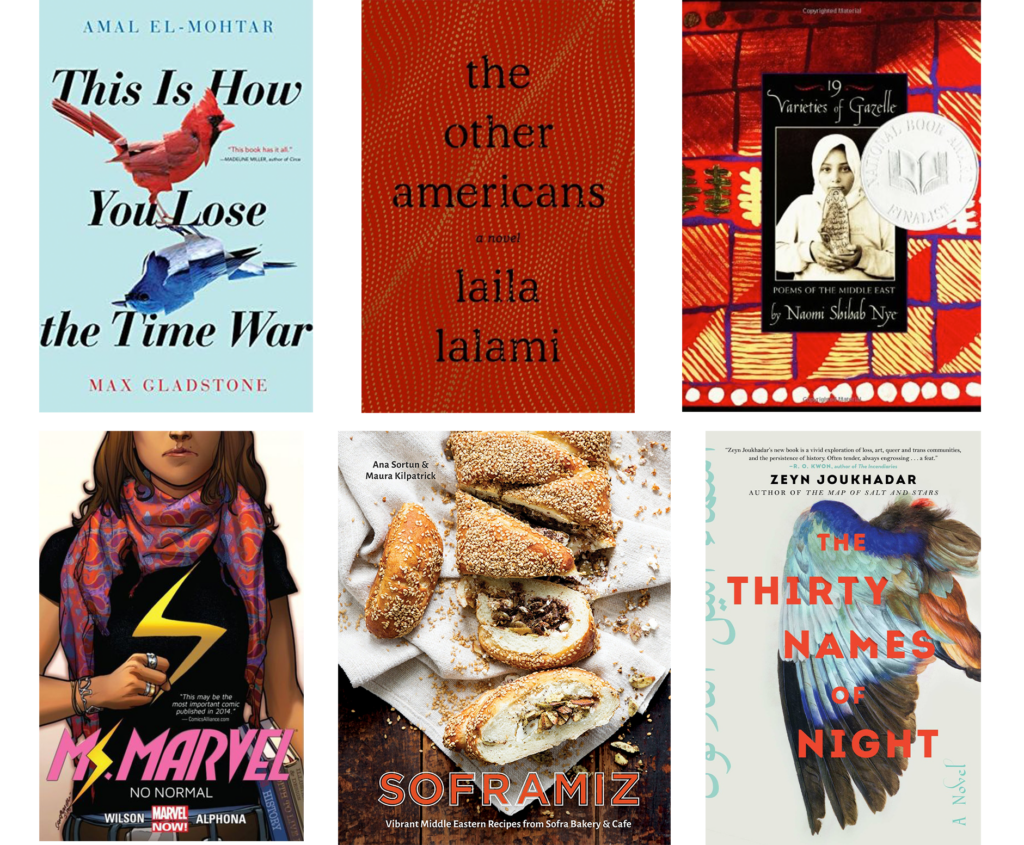 This is How You Lose the Time War
Written jointly by Amal El-Mohtar and Max Gladstone, this Hugo Award-winning novella is written in letters between two enemies as they battle through space and time. Part romance, part spy novel, part sci-fi mini-epic, This is How You Lose the Time War is unlike anything you've read before.
The Other Americans
Laila Lalami's newest novel tells the story of the accidental death—or possible murder—of a Moroccan immigrant. "At once a family saga, a murder mystery, and a love story." —Goodreads
19 Varieties of Gazelle: Poems of the Middle East
This collection of Naomi Shihab Nye's poetry offers an intimate glimpse into life in the West Bank.
Ms. Marvel, Volume 1: No Normal
Kamala Khan is just living her life in Jersey City when she's suddenly granted amazing powers. Can Kamala embrace her new identity and live up to the name of Ms. Marvel? Meet the first Muslim American superhero before she makes her screen debut!
Soframiz: Vibrant Middle Eastern Recipes from Sofra Bakery and Café
If you haven't been to Sofra Bakery and Café in Cambridge, you're missing out. Soframiz, the owners' cookbook, lets you in on some of the secrets behind their incredible food—but you might decide to save some time and take a trip to Cambridge instead!
The Thirty Names of Night
A closeted trans Syrian immigrant stumbles across the journal of a Syrian American artist and discovers mysterious connections to his own past.
You can check out all of these books, and many more, from the Hub on the first floor of Snell Library. And if you're not on the Boston campus, you can still explore our collections! Check out our extensive list of Arab American Heritage Month e-books and audiobooks. Happy reading!