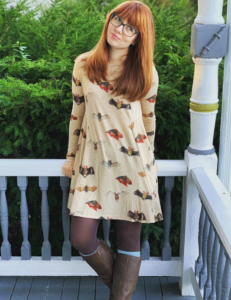 In May
, Snell Library welcomed our first-ever First Year Experience and Undergraduate Engagement Librarian, Evie Cordell. Evie works with the First Year Writing Program, General Studies Program, Explore Northeastern, and many other programs that support first year students at Northeastern. Over the course of the summer and these first weeks of fall, Evie has organized library tours, welcome sessions, and scavenger hunts. If you're a new student in the College of Engineering, you've probably met Evie as part of your library research workshop. Evie is a graduate of the University of Virginia (BA, Religious Studies), and the University of Illinois at Urbana-Champaign (MA in Library and Information Science). She's mom to five kids, author of the children's book Two Girls Want a Puppy, and speaks German pretty fluently. Say hello to Evie at the Research Help desk in the lobby of Snell Library–if you haven't already met her at a library orientation! You can follow Evie on Twitter at eviedc or email her at
e.cordell@northeastern.edu
.
Why did you decide to become a librarian?
I became a librarian because I like helping people find information. I believe that everyone has the right to access information reguardless of race, religion, or economic standing. I believe that libraries and librarians hold unique positions in our society to not only ensure that people have access to information but to also level the playing field. Plus librarians are the coolest. Seriously, I get to wear funky outfits and I get to teach students about the library and how to use its resources. Librarians don't know everything but we can find almost everything.
What's been the most fun for you as you get to know Snell Library and Northeastern's undergraduates?
I have really enjoyed getting to work with not only the first years in the various programs I work with but also getting to know the professors, instructors, and TAs. I've also had many second years that have done the library orientation, whether they were in person or scavenger hunts, tell me that they didn't know about half the services Snell Library offers. I'm glad that I get to teach them something new.
What's the most important thing new students need to know about the library?
Come talk to the librarians. Visit us at the Research Help Desk. Make appointments with us. We're here to help you. You're probably already in the library why not use the services we have. Bonus if you come talk to me I always have candy at my desk also those elusive Snell Library Husky stickers.