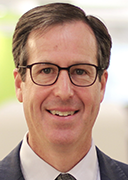 Dan Cohen, Dean of the University Library, has penned an op-ed for The Atlantic about the value of digital collections, in response to the announcement that the Obama Presidential Library will comprise a digital collection, available online, as well as a physical research center in Chicago.
While some have responded negatively to this news, Cohen, who previously served as the founding executive director of the Digital Public Library of America (DPLA), argues in his essay that digital collections, which are certainly very familiar to most people in this era of smartphone photos and email, should not be considered somehow lesser than physical collections. He emphasizes that the digital Obama collection will be by its nature much more accessible than the physical libraries of previous presidents, because researchers will not need to travel to Chicago to make use of materials. As a result, the research potential of the Obama Library is likely as vast as the digital collection itself.
Dan Cohen also serves as Northeastern University's Vice Provost for Information Collaboration and Professor of History.