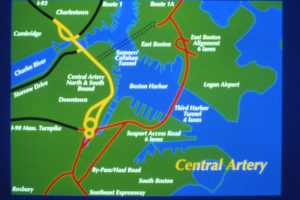 The Central Artery/Tunnel project, also known as the "Big Dig," was a mega-project intended to alleviate traffic congestion on the I-93 elevated highway. This was accomplished by building an underground highway that included links to Logan Airport and new bridges crossing the Charles River. We have several collections in the Northeastern University Archives and Special Collections that document various aspects of this construction from community activism to engineering. The newest of these collections is the John "Jack" M. Quinlan Central Artery/Tunnel Project Photographs.
Quinlan was the Director of Public Affairs for the Big Dig project from 1997-2003. It was his job to update the public on the project's progress. He sent his staff up in helicopters as often as every two months to document the ever-changing landscape of the Big Dig construction. He then used these aerial photographs—along with additional photographs of other aspects of construction, graphics, and models—to put together presentations. These presentations were given to different audiences like business companies, law firms, and school groups.
With over 500 photographs in the collection, these photographs show a wide range of views of the Big Dig, from wide aerials and close up tunnel shots of construction to design graphics and models of construction. All items are digitized and available to view in Northeastern University's Digital Repository Service.