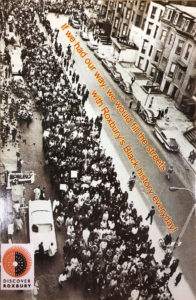 Northeastern University has the advantage of being surrounded by many different and distinct Boston neighborhoods. The Northeastern University Archives and Special Collections works to preserve the voices from these communities by collecting from different organizations. One of the newest collections available is from the non-profit organization Discover Roxbury.
As its name implies, Discover Roxbury aims to help people, both locals and tourists, to discover all of the things Roxbury has to offer. Originally named the Bridges Program, this organization was started by Marcia Butman in 1995 in order to introduce urban neighborhoods to suburban parents and students in the METCO program. The organization offers foot, trolley, and bike tours that include visits to historic sites, art galleries, and restaurants. These themed tours are lead by trained Roxbury residents passionate about sharing their knowledge on the history of the neighborhood and its current vibrant arts and culture scene.
Butman's vision for the organization has always been collaboration, which has led to partnerships with organizations such as the Roxbury Cultural Network, The First Church in Roxbury, Roxbury Heritage State Park, and the Greater Boston Convention and Visitors Bureau. Through these partnerships Discover Roxbury has been able to hold events supporting local artists such as Roxbury Open Studios and ArtRox, events supporting local restaurants and cuisines like Roxtoberfest, as well as holiday pop ups and their annual fundraiser Heart of the Hub held at the historic Hibernian Hall located in Dudley Square.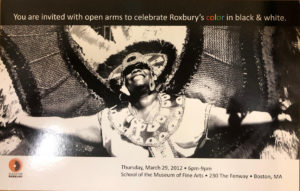 The collection includes marketing materials for events and programs, administrative materials, and research used for teaching resources and tour scripts. The collection is currently unprocessed, but if researchers are interested in using the materials, please contact archive staff at archives@northeastern.edu.