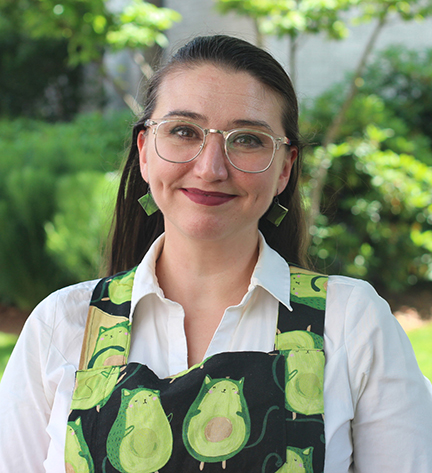 Hello! I'm Anaya Jones and I'm very excited to join Northeastern University as the Accessibility & Online Learning Librarian.
I became interested in scalable information literacy instruction at Mary Baldwin University. Building on that knowledge, I joined Southern New Hampshire University. Here at Northeastern, I'm joining an established team of online learning librarians who support students around the world. Depending on where you are and what you're studying, you just might see me in a workshop, a research guide, or in your Canvas course.
A big part of my personal philosophy is that accessibility plays an integral role in librarianship and education. Our world is largely designed for non-disabled people, and this creates barriers for folks with disabilities. Access to information and services are at the core of the work librarians do in a wide range of roles and contexts. It's important to me that our dedication to access extends to accessibility. Contributing to an accessible world is the ethical thing to do — but accessibility doesn't happen accidentally. I'm at the Northeastern University Library to collaboratively remove accessibility barriers.
Everyone shares the responsibility to increase accessibility. Think about the things you can do to make your corner of the world more accessible:
Use Microsoft's Accessibility Checker in Outlook, Word, and PowerPoint
Make your social media posts accessible by:

including alt-text for images
avoiding overusing emojis, symbols, or capitalized letters
use CamelCase for hashtags
edit auto-generated alt-text and captions
use inclusive language and gender-neutral pronouns
When working on new projects, ask about access for people with disabilities. How does your app work with a screen reader? Can you navigate that website with a keyboard? How will a person in a wheelchair access that new building? You don't have to know everything to ask good questions.
This isn't all there is to increasing accessibility, but it will help! If you experience barriers with Northeastern University Library resources or tools, let us know using the Report a Problem form.
Thanks for reading this far! I hail from Southern California and also lived in Virginia's Shenandoah Valley for 10 years. I earned my Master of Library and Information Science degree from Drexel University. Last year, I earned my International Association of Accessibility Professionals (IAAP) Certified Professional in Accessibility Core Competencies (CPACC) certification. I spend all my free time thinking about and petting my ridiculously adorable dogs Mordecai and Moxxi.