Posted by: Kirsten Forsberg

Yesterday's celebration of Snell Library's 20th anniversary was truly a memorable event. Guests gathered in the lobby of Snell to welcome our esteemed speakers: Dean of Libraries Will Wakeling and the 10th Archivist of the United States,
David Ferriero
, as they spoke of both the history and future of the library, and brought to light the many roles Snell fills in Northeastern's community. A reception followed and celebrated the library's staff who have been at Snell since the beginning as well as past authors from Snell's Meet the Author Series. Special recognition was also made for the library's largest supporters and members of Snell Library's building campaign.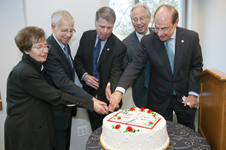 To read more about the festivities, check out the News@Northeastern coverage of the event here:
http://www.northeastern.edu/news/stories/2011/04/snell.html
Write / view comments

Posted in: Library Memories, Library News