Despite what critics may say, Nicholas Sparks has written some of the best love stories of our time.  He is personally one of my favorite authors and, lately, he has kept me very busy with his books, films, and television productions. His newest book,
The Best of Me
, is set to release October 11th, 2011.  It is about two small-town former high school sweethearts from opposite sides of the tracks. Now middle-aged, they've taken wildly divergent paths, but neither has lived the life they imagined . . . and neither can forget the passionate first love that forever altered their world. When they are both called back to their hometown for the funeral of the mentor who once gave them shelter, they will be forced to confront the choices each has made, and ask whether love can truly rewrite the past. Warner Brothers has also already purchased film rights for
The Best of Me
and will begin production on that sometime next year.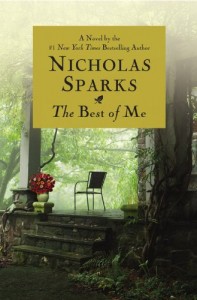 In addition to this novel, Warner Brothers has adapted Sparks' novel,
The Lucky One
, into a film to be released on April 20, 2012 and his recent book,
Safe Haven
, has already undergone production by Relativity Media
.
One would think that all of this would be enough excitement for one author, but Sparks does not stop there.  Sparks teamed up with Kristin Hahn, co-producer of
The Time Traveler's Wife,
to create the script for a fantasy television show called
The Watchers
.  Temple Hill Entertainment bought rights to the television series and it will be broadcast on ABC.  The drama is about a fallen angel coming down to Earth to find love.  This is different then most of Sparks' novels but if the show is anything like his books then I'm positive I will find it endearing and captivating…maybe you will too! To see what Nicholas Sparks material Snell Library has in our stacks search
myneu
. To read more about Nicholas Sparks visit his
website
.