The library is thrilled to announce that we are now providing access to OverDrive e-books and audiobooks courtesy of the Massachusetts SAILS network of libraries. OverDrive offers thousands of popular fiction and nonfiction titles that can be accessed on a variety of devices via web browser or app.
OverDrive offers many features that make it a welcome addition to our collection. With this service, we're now able to offer a much wider range of popular and leisure titles, including magazines and children's materials. Not sure what you're in the mood for? OverDrive offers curated reading lists and intuitive searching by keyword, subject, or availability. And if we don't have what you're looking for, you can recommend a purchase within the OverDrive app.
Perhaps the best feature of OverDrive is that you can read books or listen to audiobooks on a variety of devices, including Nooks and iPads/iPhones. OverDrive also integrates seamlessly with Amazon for Kindle users. While you can access OverDrive via web browser, your experience is optimized when using either of the OverDrive apps. The Libby app makes it easy to switch between multiple library collections if you are also using e-books and audiobooks at your local public library, while the classic OverDrive app includes some features that are not yet available in the Libby app, such as streaming video and recommendations, as well as compatibility with Kindle Fire, mp3 players, and screen readers. Either app will allow you to read or listen to your loans, as well as manage your account.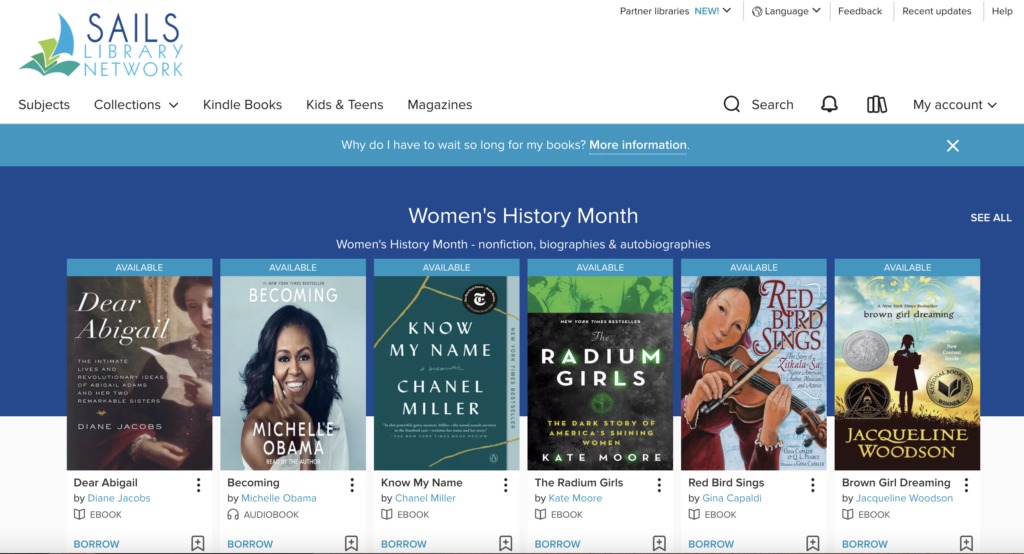 It's important to note that we lease a limited number of copies of each digital title, which means that there may be a wait list for popular titles, just like with print books. Fortunately, OverDrive makes it easy to place holds and build wish lists with just a click of a button, and if a hold becomes available before you're ready to read it, you can postpone your hold until a later time.
Because titles and availability are subject to change without notice and copies of individual titles are limited, OverDrive is not considered an appropriate resource for course materials. Materials available via OverDrive are also not listed in Scholar OneSearch, as titles are not permanent additions to our collection. Please contact your department's subject librarian with questions about access to assigned course materials.
When you're ready to explore our new OverDrive offerings, go to sails.overdrive.com, where you'll be asked to select Northeastern University as your home library and then provide your MyNEU credentials. For more help, see our e-book reference guide or ask a librarian.
Happy reading!