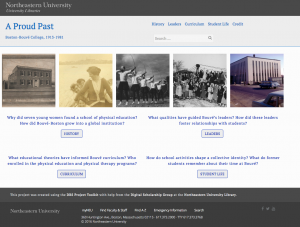 Located in Snell Library, Northeastern's Archives and Special Collections department collects the University's history, as well as the history of social movements in Boston. Their goal is to secure and make accessible important and at-risk historical records. One of the special collections that lives in the Digital Repository Service (DRS) is the Boston-Bouvé College collection. Featuring photographs and records ranging from the college's founding in 1913 until 1981, this archive helps trace the complex history of how the Boston School of Physical Education became Boston-Bouvé College.
The collection was first made into a website in 2003. After over a decade, the site was becoming outdated and hard to maintain. With the pilot program of the DRS Project Toolkit (now known as CERES: Exhibit Toolkit), there was an opportunity to breathe new life into the old website.
The Toolkit works on a repository-based architecture. First, groups like the archives load items into the DRS. Then, they are cataloged. For this project, cataloging is still ongoing due to the large amount of digital items in the collection. Then, once a collection is in the DRS, the Toolkit can help users easily create WordPress-based website filled with exhibits. In this case, Aubrey Butts, a Public History Master's Student, used CERES: Exhibit Toolkit to re-create the old website with a fresh face, fresh metadata, and an explorable, searchable digital archive.
At the new website, users can learn about the history of the school, its curriculum, its leaders, and student life. In addition to the curated exhibits, the archive holds 128 images and 7 documents that users can explore and interact with.
To view the new website, go to aproudpast.library.northeastern.edu.