Gone are the days of running to the corner store in desperation only to find it closed. Gone are the times when you arrive at the library fully prepared for a day of studying only to realize you forgot your phone charger.
This semester, Snell Library has a new addition to the first floor near Argo Tea; a vending machine offering essentials such as highlighters, medicine, and caffeinated gummy bears. This is the first location of the Northeastern-based start-up, The Lobby Shop, which offers a convenient solution for the busy lives of college students and professionals.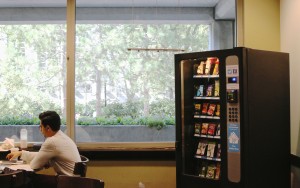 Founded by three NU undergrads, The Lobby Shop was born after a chance meeting at IDEA, Northeastern's venture accelerator. Co-founders Beth Hutchings and Dylan Sessler came to their IDEA orientation with a plan to take college essentials and offer them in a vending machine. Midway through the meeting, freshman Evan LaBelle stood up and pitched an idea eerily similar to their own.  A few days later they were officially partners of The Lobby Shop.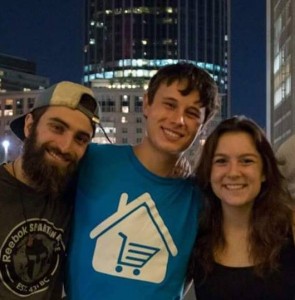 Supported by IDEA, Maureen Timmons, and their coach Jordan Vallino, the three students developed their product list to incorporate the common necessities in the following categories:
OTC medicine

electronics accessories

hygiene products

school supplies

everyday essentials
The machine will also feature a rotating selection of fun and useful items that students will be able to vote on.
After receiving contract approval and gap funding this past summer, the trio installed their machine in the back of Argo Tea in Snell Library to offer urgently needed items in a central location on campus. The Lobby Shop team plans to bring their service to residence halls at Northeastern and other universities to provide safe and convenient access to products students need at all hours of the day.
"The reality is that Boston isn't a 24-hour city" Beth notes, "and most of our lives don't end when stores close. Especially if we have another winter like last year, we want as many people as possible to have access to things they often need around the clock."