Learn audio engineering basics from the experts. Workshops are small, friendly and no previous experience is necessary.
Register today! Sessions meet @ 12-1pm and 6-7pm.
Learn the roles of an engineer January 31
Learn about signal flow and microphones February 7
Learn how to use Pro Tools editing software February 14
Record a session and communicate with musicians February 21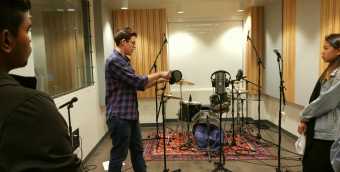 These sessions meet in the Recording Studios, 210 Snell Library. The February 14th session meets in 422 Snell Library.
For more info., contact Thomas Bary at t.bary@northeastern.edu or call 617-373-2465.