Finals. The most glorious time of the year. Your friends at Snell Library and at Curry Student Center know that it is an incredibly stressful time. That's why we've got some Finals Week activities for you at Snell and Curry.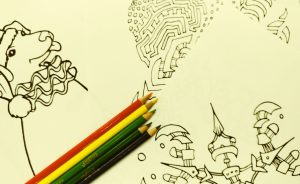 Firstly, we'll have a coloring table beginning on Reading Day and all through finals week set up in Snell's Lobby. Coloring is a fantastic, proven way to reduce stress and focus on something other than college. We'll also have positive post-it notes for inspiration and some bubble wrap to pop your stress away! On Reading Day, we'll have massage chairs with professional masseuses as well as energy filled snacks to hand out from 12-4 PM. A big thanks to our friends at
Fit University
for making this happen. Feeling stressed about last minute citations, bibliographies, or research? We have Walk-In Research Help throughout finals and 24/7 chat service for any last minute help you may need. We love that you love to study in Snell but we understand that sometimes more space is needed. So, our friends at Curry have reserved some rooms for you for finals week study. From 6PM to 2AM, rooms 342 and 342 will be open for quiet study and room 440 will be open for collaborative study in Curry. There will also be study breaks with coffee and positive vibes in Campus Crossroads on 4/20 from 10-11AM and 4/23 fro m4-3PM. Drop by and say hi! Throughout all of Finals Week, be on the lookout for goodie bag giveaways, free coffee study breaks, and positive sentiments from library staff. From all of us here at Snell Library and Curry Student Center, we wish you the best of luck on your finals!