Posted by: Jon Reed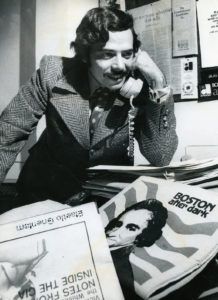 For nearly 50 years, The Boston Phoenix was Boston's alternative newspaper of record. The first word on social justice, politics, and arts ceased publication in March 2013. Fortunately, the entire Phoenix collection, over 775 cubic feet, is now well-preserved at Northeastern University thanks to media mogul and owner Stephen M. Mindich.
Northeastern University Libraries provide online and in-person access to materials from the Phoenix Media/Communications Group including The Phoenix, The Portland Phoenix, The Providence Phoenix, The Worcester Phoenix, Stuff Magazine, and WFNX 101.7 FM.
Mindich, who passed away on May 23rd, thoughtfully provided Snell Library with the newspapers, and audiovisual materials which are now a part of the Archives & Special Collections, leaving Boston, and beyond, with an important resource legacy that will continue for generations.
Head of Special Collections and University Archivist, Giordana Mecagni notes "Although no longer in publication, its archives will continue to inspire new thought, scholarship, and questioning the status quo. We are very grateful to Steve and the Mindich family for gifting this significant resource."
Known for its edgy coverage of arts, entertainment, lifestyle and politics, The Phoenix will be part of the foundation of information housed at Northeastern University's new Boston Research Center. The collection can be accessed at phoenix.library.northeastern.edu
Write / view comments

Posted in: Archives and Special Collections