Note: This post originally appeared on July 30, 2018. We are reposting it today to highlight the official launch of the Holocaust Awareness Committee's Digital Archive on April 2, 2019, during Northeastern University's annual Holocaust and Genocide Awareness Week.
Commemorating History and Scholarship: Holocaust Awareness Committee's Digital Archives
Public Launch on April 2, 2019
Raytheon Amphitheater 6:00 PM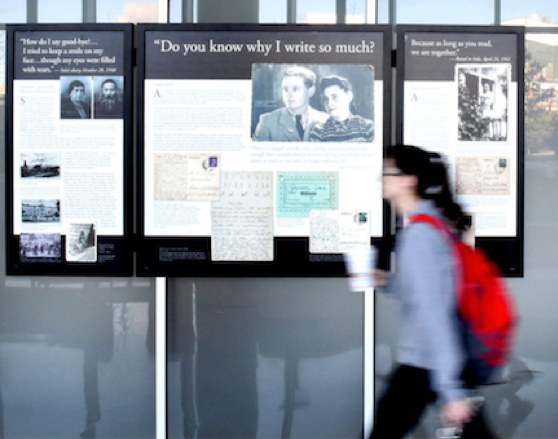 The newly launched Holocaust Awareness Committee Archives digital repository site preserves and displays the rich history of Northeastern's extraordinary commitment to Holocaust awareness and genocide prevention, as well as supports curriculum and research including courses in the Holocaust, Jewish and European history and public history.
Since 1977 Northeastern University has commemorated the Holocaust with a week-long series of events including lectures, performances and survivor talks to explore the history and memory of the Holocaust and to engage with students. Key elements of the Archives includes annual event programs and video recordings for: the Salomon Robert Morton lecture series with international scholars, activists and writers; the Philip N. Backstrom, Jr. Survivor Series of video recordings of 30 Holocaust survivors, [some who came multiple times to engage with members of the Northeastern community]; the Annual Commemoration/President's Breakfast which includes lectures by Northeastern faculty and noteworthy scholars and Gideon Klein Scholar art, music and dance presentations by talented student awardees and a listing of the Bill Giessen film series titles shown since 1991. Original content for most of these resources resides in the Libraries' Archives and Special Collections.
In addition, unique online exhibits explore the themes of religious commemoration, genocide awareness and prevention and faculty and student engagement.
This project was completed by Megan Barney, Laurel Leff, Debra Mandel, Kyra Millard and Jennifer Sartori. We are very grateful for the support of Jewish Studies: Lori Lefkovitz, Dov Waxman, and Deborah Levisohn; Northeastern University Libraries Archives and Special Collections: Giordana Mecagni and Molly Brown; the Digital Scholarship Group: Sarah Sweeney, Amanda Rust, and Megan Barney; and The Humanities Center: Ignacio J. Chaparro.
The collection can be accessed here:
https://holocaustawarenessarchives.northeastern.edu/
For more information, contact Debra Mandel at
d.mandel@northeastern.edu
.