We have a great slate of authors lined up for the fall semester
. Please join us! If you can't make it, we'll continue to post talks on
Youtube
.  And stay up to date on any changes at the Library's
events web page
.
Can I Wear My Nose Ring to the Interview?
Author Ellen Reeves
Wednesday, September 23 @ Noon
440 Egan Center
Reeves, a Northeastern alumnus and job hunting expert, shares her advice on finding, landing, and keeping your first 'real' job. She gives advice on: cleaning up your online act, using a professional email address, crafting your best resume, dressing your best for interviews, networking effectively, and avoiding emailing hundreds of resumes.
"If you're looking for a job, you need this book. And now for a confession: After reading it, I tweaked my own resume!"
-Doug Hirschhorn, Ph.D., Executive Performance Coach and Author of
Street Smarts
Sponsored by Northeastern University Libraries, Northeastern Career Services, and the Northeastern Bookstore.
Daughters of the Stone
Author Dahlma Llanos-Figueroa
Thursday, October 15 @ Noon
90 Snell Library
This novel focuses on five generations of Afro-Puerto Rican women from the mid-1800s to the present. The story takes place in Africa and follows Fela and her husband, who perform a tribal ceremony, pouring the essence of their unborn child into a stone. The couple is then separated by slavery. Throughout the next four generations, the power of this stone is revealed.
"This is a remarkable first novel, both magical and deeply real, that vividly renders the power of storytelling to a diasporic people. The story of each woman in her own time and place is like a luminous fiber, meticulously spun from hay into gold, which woven together creates an unforgettable history, grounded in a black stone that symbolizes the legends and rituals of the Old Ones, but spiraling into a wider world that connects stone to memory and earth to continents…I could not resist the magnetic pull of these stories."
-Alicia Gaspar de Alba, author of
Calligraphy of the Witch Sponsored by Northeastern University Libraries, the Northeastern Latino/a Student Center, the Northeastern University Women's Studies Program, and the Northeastern Bookstore.
Heidegger and a Hippo Walk Through Those Pearly Gates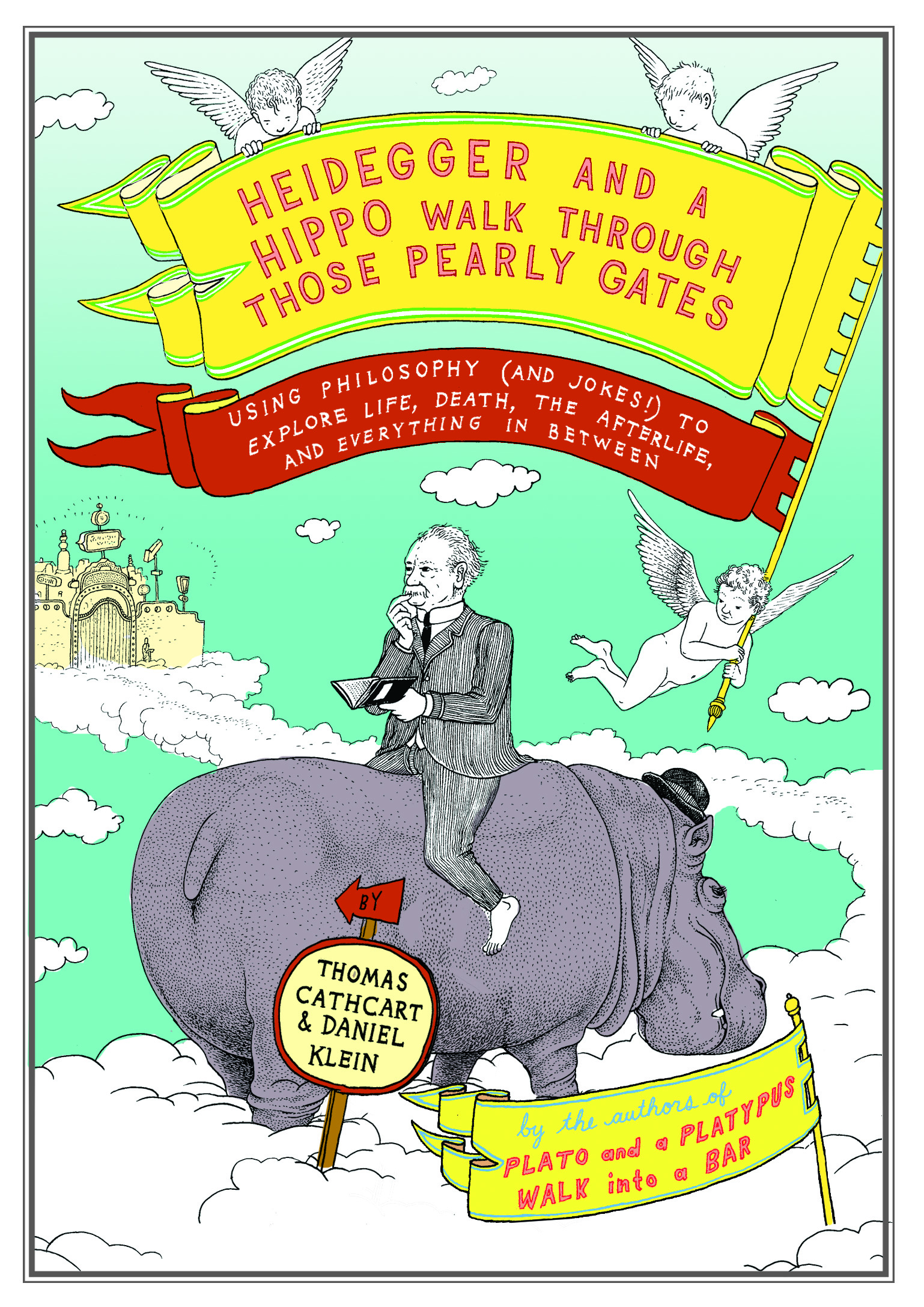 Authors Thomas Cathcart and Daniel Klein
Saturday, October 24 @ 10:30 AM      Parent's Weekend
90 Snell Library
Back by popular demand, Cathcart and Klein return to Snell Library to share their newest book, subtitled "Using Philosophy (and Jokes!) to Explore Life, Death, the Afterlife and Everything in Between."  The pair uses a witty and lighthearted approach to examine what major philosophers such as Kierkegaard, Descartes, and Sartre wrote about death.
"This little book is an entertaining and surprisingly informative survey of the Big D and its centrality in human life."
-Publisher's Weekly
Sponsored by Northeastern University Libraries, the Northeastern Office of Admissions, and the Northeastern Bookstore.
Logicomix
Author Christos Papadimitriou
Wednesday, October 28 @ Noon
90 Snell Library
This beautiful graphic novel tells the true story of Bertrand Russell, British logician, anti-war activist, and Nobel Prize winner, and his colleagues in the fields of math, science, and philosophy. It is set against the historical backdrop of major twentieth century events, including the two World Wars, and explores Russell's passionate quest for mathematical truth.
"Some superheroes leap tall buildings with a single bound. Others catch thieves just like flies. But the ones in Apostolos Doxiadis and Christos H. Papadimitriou's graphic novel just think-really hard-about an incredibly difficult dilemma…Like all the best superheroes, they are deeply, fascinatingly flawed characters."
–
Financial Times
"This is an extraordinary graphic novel, wildly ambitious in daring to put into words and drawings the life and thought of one of the greatest philosophers of the last century, Bertrand Russell…A rare intellectual and artistic achievement, which will, I'm sure, lead its readers to explore realms of knowledge they thought were forbidden to them."
-Howard Zinn, author of
A People's History of the United States Sponsored by Northeastern University Libraries and the Northeastern Bookstore.
The Longest Trip Home
Author John Grogan
Monday, November 2 @ Noon
Raytheon Amphitheater, Egan Center
Grogan, author of the best-seller
Marley & Me
, writes a personal memoir about growing up, forging his own identity, and re-connecting and reconciling with his parents. Grogan was raised in a devout Catholic home in suburban Detroit of the 1960s and 1970s. Using a deft blend of humor and compassion, Grogan vividly illustrates his own family in a way that will cause readers to recognize and embrace their own.
"Genuinely heart-rending. . .Grogan invests these events with deeply felt humanity and pathos."
-Janet Maslin, New York Times
Sponsored by Northeastern University Libraries, the Northeastern School of Journalism, and the Northeastern Bookstore.
About the Meet the Author Series
Northeastern University Libraries encourage dialogue on significant contemporary questions through its Meet the Author program. We offer a varied collection of authors, whose work and discussion can help enrich the intellectual and cultural fabric of the University. The Meet the Author programs are free and open to the public. Please join us for these stimulating events.  For more information please contact Maria Carpenter @  617.373.2821, m.carpenter@neu.edu.