Northeastern's Special Collections and Archives
preserves
The Theater Offensive Records
, a prominent gay theater troupe that has long been a defining presence with the Boston gay community. Founded by Abe Rybeck in 1989, the Theater Offensive boasts that they are "Twenty-Five Years BOLD" this year. From  the OUT on the Edge festival, to championing AIDS Awareness in the Fenway in the early 1990's, to the queer cabaret band, Adult Children of Heterosexuals, the Theater Offensive celebrates their fearlessness and has never shied from political activism and social justice, making this collection wholly unique and incredibly modern – even with its quarter century time stamp.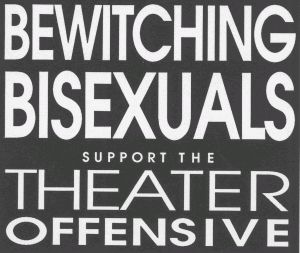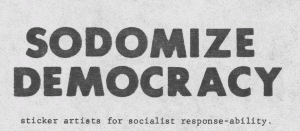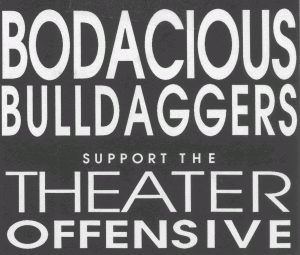 Political stickers from the late 1980's, from the United Fruit Company Series.
This collection offers a backstage look at what it takes to run a gay theater troupe in Boston. This includes not only the fights for funding, but the overwhelming social justice obligation of being a member of such a massive and vocal community. For over twenty years, the Theater Offensive has taken that responsibility in stride, which is showcased in this collection's festival posters, photographs, strategic planning for outreach, and demand for community presence.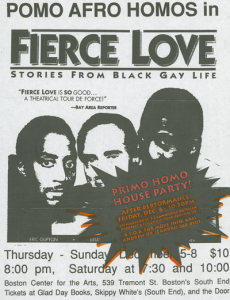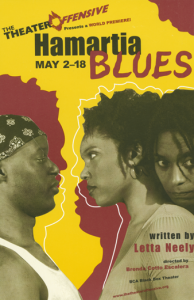 Posters for plays depicting black gay life, from the Other Festivals and Production Series
People of color, especially people of color within the LGBTQA community, deserve and need to have their stories told. The Theater Offensive collection showcases how they have been boldly telling these stories for years and makes one realize how we are only just now starting to listen. As this collection reflects, the Theater Offensive will continue with the message they have chanted, sung, and marched for since 1989:
#BlackLivesMatter
,
#BlackGayLivesMatter
,
#BlackTransLivesMatter
as they did proudly at Boston's Annual Gay Pride Parade in June, 2015.