Smithsonian Global Sound
,
Alexander Street Press
's "virtual encyclopedia of the world's musical and aural traditions," has three convenient ways to access recordings from your mobile phone. Select a track you wish to listen to, click on the mobile phone icon, and choose one of three methods for accessing the track (and entire album!) from your mobile device. Click on the screen shot below of the
Cajun Home Music Album
to see the pop-up help menu you will receive.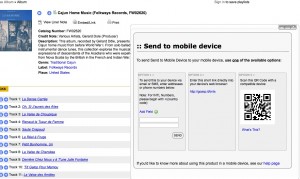 If you have any questions, feel free to contact me at
d.mandel@neu.edu
. Debra Mandel