Looking for a primary source for an essay or digital project? Do you want to know more about, say, the Montgomery Bus Boycott from someone who lived through it? Or are you just bored and looking for something educational to watch? Well, dear reader, have I got the archive for you.
I'd like to present to you the HistoryMakers Digital Archive, a video collection of oral history interviews that is available to all Northeastern students, faculty, and staff. With a focus on African-American history, the Digital Archive is a resource that can be both useful and fascinating to everyone in academia, even if they're not studying history.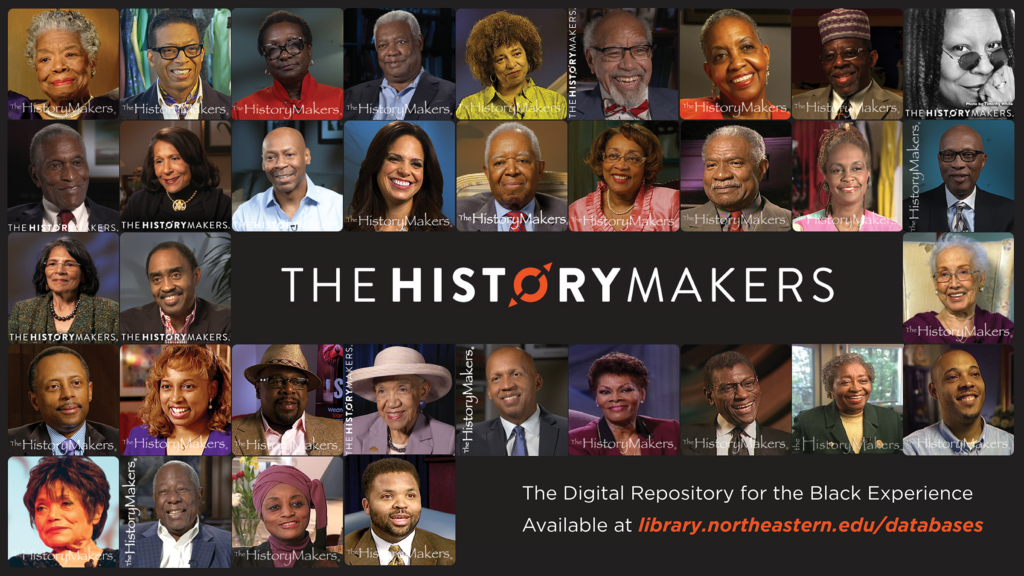 So, what is oral history? It's certainly not the history of public speaking or how humans dealt with cavities, nor is it simply anecdotes passed by word of mouth. The Oral History Association defines it as "a field of study and a method of gathering, preserving and interpreting the voices and memories of people, communities, and participants in past events." Besides being the oldest form of history-gathering, oral history holds special significance to African Americans and other groups of the African diaspora: Not only do many African peoples have long, storied traditions—perhaps most famously, that of the West African griot—that venerate the keepers of oral history as professionals who are just as vital to the community as the soldier or the healer. Further, due to historical laws that either made it illegal or difficult for African Americans to be taught how to read and write, oral history has been one of the crucial ways that we can learn about certain events and periods. For example, during the Great Depression, the U.S. government commissioned a collection of oral history interviews from formerly enslaved people across 17 states. The collection of transcribed interviews, which is available online, is an incredibly valuable resource in broadening your understanding of the experiences of Black people during slavery.
The HistoryMakers Digital Archive follows in this honorable tradition. It compiles oral history interviews with nearly 2,700 historically significant Americans of African descent, designated as "HistoryMakers." They're significant for a variety of reasons, but all have made some notable contribution to the fields of medicine, art, music, politics, technology, science, literature, journalism, and more.
The archive includes interviews that provide insight into the lives and deeds of some of the most well-known people in the world—John Lewis, Whoopi Goldberg, Angela Davis, Harry Belafonte, Barack Obama—as well as many other fascinating folks worth learning about who you might not have known about. For instance, there's Elma Lewis, a Roxbury native who founded her own art school here in Boston. There's Ed Bullins, a noted playwright and former professor at Northeastern. And then there's Sylvester Monroe, a journalist who recounts the perils he faced while covering the desegregation of schools in Boston. Heck, I even found an interview from William Ward, the former mayor of my hometown of Chesapeake, Virginia. And that's just scratching the surface. You can watch interviews from literally thousands of HistoryMakers, each of which offer their own take on their fields, their lives, and the historical events that shaped them.
Part of the beauty of the Digital Archive is how simple it is to use: after spending just a handful of minutes on the website, you'll more than likely get the hang of it. But if you'd like a step-by-step guide on how to access, navigate, and utilize it, I've created a LibGuide that will hopefully be helpful.
In addition, HistoryMakers is hosting a contest in honor of Black History Month. Learn more and sign up here.
Have any further questions about the Digital Archive? You can contact me directly at moyler.h@northeastern.edu or send a note attached to a carrier pigeon to [redacted] Street in Mission Hill.