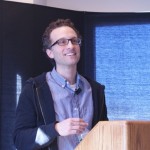 Yesterday was the first Meet the Author Talk of the semester, and it was awesome!
Losing Graceland's
Micah Nathan gave an excellent reading and candidly answered all of our inquiring questions about the novel, his personal life, and his writing processes. The audience was pleasantly surprised when we were treated to more than a few amusing anecdotes from his life. Frankly, he should try comedy on the side. You can read more about
Losing Graceland
on
Amazon
or on his
website
where Micah says Northeastern
"rivaled any bookstore/assembly/book expo I've ever attended."
And he wants to use our poster design as a potential new book cover!
"…a graphic design major put together the poster.
If fate deems the book goes into a second printing, I will lobby for this being the cover. Or at least a cover for some version. How is it she managed to combine the Elvis vibe with my narrow head?"
I know I'm looking forward to the next event, and I hope to see everyone there!