Beginning this fall, you can now use
NUSSO
(Northeastern Space Scheduling Online) on the go!  When you go to the NUSSO site or the library homepage and click on "Reserve a Room" from your phone, you will be redirected to the mobile version.  It is simple and easy to use.  To reserve a room, click on the home icon and then "New Booking." And did you know… you can also use NUSSO to reserve a workstation on the second floor of Snell Library! The mobile site will only show you bookings for the current day.  If you would like to view, edit, or cancel future reservations, you will have use the full site. Thanks to our partners, the Center for Student Involvement and Information Technology Services, for helping to enable this new mobile functionality!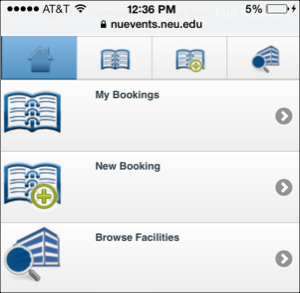 Also new this semester:
Individual rooms on level 3 are now available to graduate students for flexible, short term booking using
NUSSO
. These rooms can be reserved for up to 6-hour blocks of time for writing a dissertation or thesis, or to study for an exam.  This is a great option for graduate students who only need to use a study room occasionally. If you have any questions or comments about these changes, please fill out the library's
Contact Us
form, or visit the Help & Information Desk on the first floor of the library.