The Digital Scholarship Group is now accepting proposals for pilot projects to test the DRS Project Toolkit: a new user-friendly set of tools for building digital scholarly projects and publications using the Northeastern University Libraries Digital Repository Service. With the DRS Project Toolkit, Northeastern University members can use Omeka and WordPress to create projects that draw digital materials such as images, texts, and video dynamically from the DRS. Through the development of the DRS Project Toolkit we hope to establish a simple process to serve project materials using various web publishing tools. During this pilot phase we focus on establishing a base set of features supported by the Toolkit, and we will also work with each individual project to discover unique Toolkit features could be developed and shared with other projects, like interactive maps or timelines. The inaugural round of development for DRS Project Toolkit will be a collaborative endeavor and a great opportunity to experiment with publishing your project's materials. If you have a project idea, we'd love to hear from you! Just answer a few questions about your project to
apply
.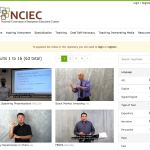 To see an example of the Toolkit elements in practice, check out the
Terp Talks
video series portal from the National Consortium of Interpreter Education Centers. The site itself is built using WordPress, but the video content and metadata are stored in the DRS. For more information about the DRS Project Toolkit, view the
Call for Proposals
, or contact us at DSG@neu.edu to set up a meeting. Written by
Sarah Sweeney
, Digital Repository Manager, Digital Scholarship Group.