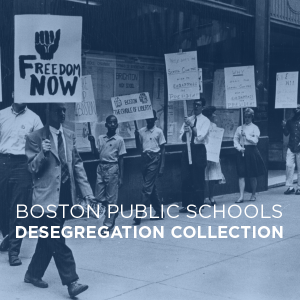 The following is a series written by archivists, academics, activists, and educators making available primary source material, providing pedagogical support, and furthering the understanding of Boston Public School's Desegregation history.
The beginning of a multi-archival scanning project that would result in the
Boston Public Schools Desegregation Collection
occurred in 2014 after a collaboration with the Boston Public Schools on school desegregation curricula. Now, in 2018, six archives' materials totaling in over 4,500 items have been unified through an effort of selection, scanning, and cataloging.
As of February 1, the collection is now available for public research through a portal created by the Northeastern University Archives & Special Collections:
https://bpsdesegregation.library.northeastern.edu
. The portal includes guides on how to use the collection, materials for educators, and other resources including timelines, exhibits, and links to other school desegregation collections.
You are invited you to explore the collection as you see fit, by browsing materials contextualized through the
portal
or by searching using the Digital Public Library of America widget on the home page. Materials narrating the experiences of students, teachers, parents, and other community members in the midst of school desegregation in Boston await you.
This project was made possible by the collaborative efforts of
the Northeastern University Archives and Special Collections, University Archives and Special Collections at UMass Boston, Boston College Libraries, the Moakley Archive and Institute at Suffolk University, the Boston City Archives, and the National Archives and Records Administration in Boston and the support of Digital Commonwealth and the Digital Public Library of America. Along with collaborative partnerships, this project received
financial and administrative support from the
Boston Library Consortium
.